Matchy Matchy Sewing Club is a playground of discovery for everyone who loves to sew and anyone who's ever wanted to! Where memories are created from scratch, mistakes are magic, and mixing it up has a way of bringing everything together. 
Shop the Latest — Patterns designed for play. Fabrics picked to mix. Resources created just for you.
PDF Sewing Patterns
Our playful patterns are refreshingly simple, highly wearable, and so much fun that you can't just make one.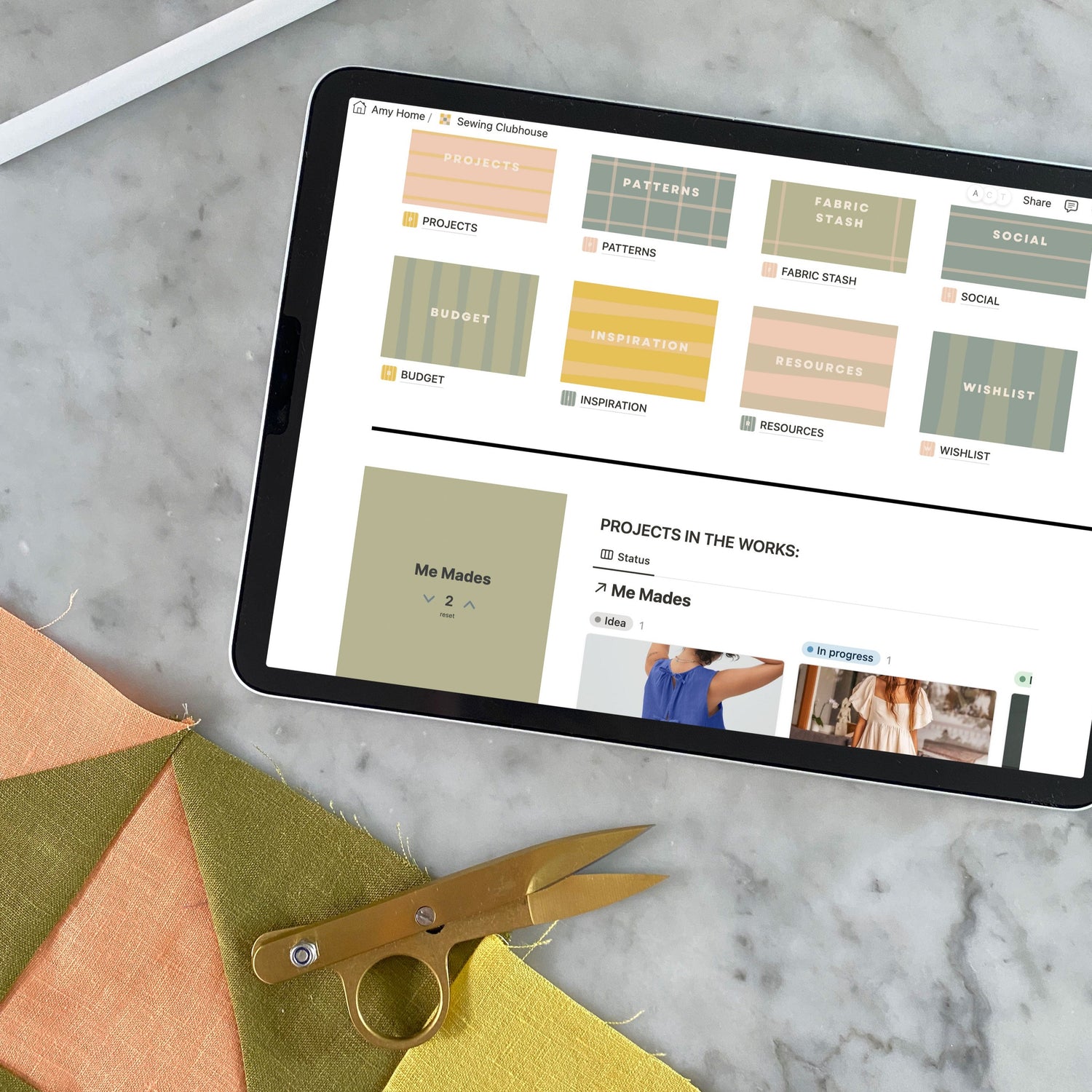 Resources made for sewists
Organize your sewing in a snap!
We create resources for sewists (just like you) as you follow your creativity.
Sewing Clubhouse
Cloud Linen Fabric
Foolproof fabric for mixing and matching. Our ever-evolving collection is cohesively curated to set you up for success. Pick your faves and see where they take you!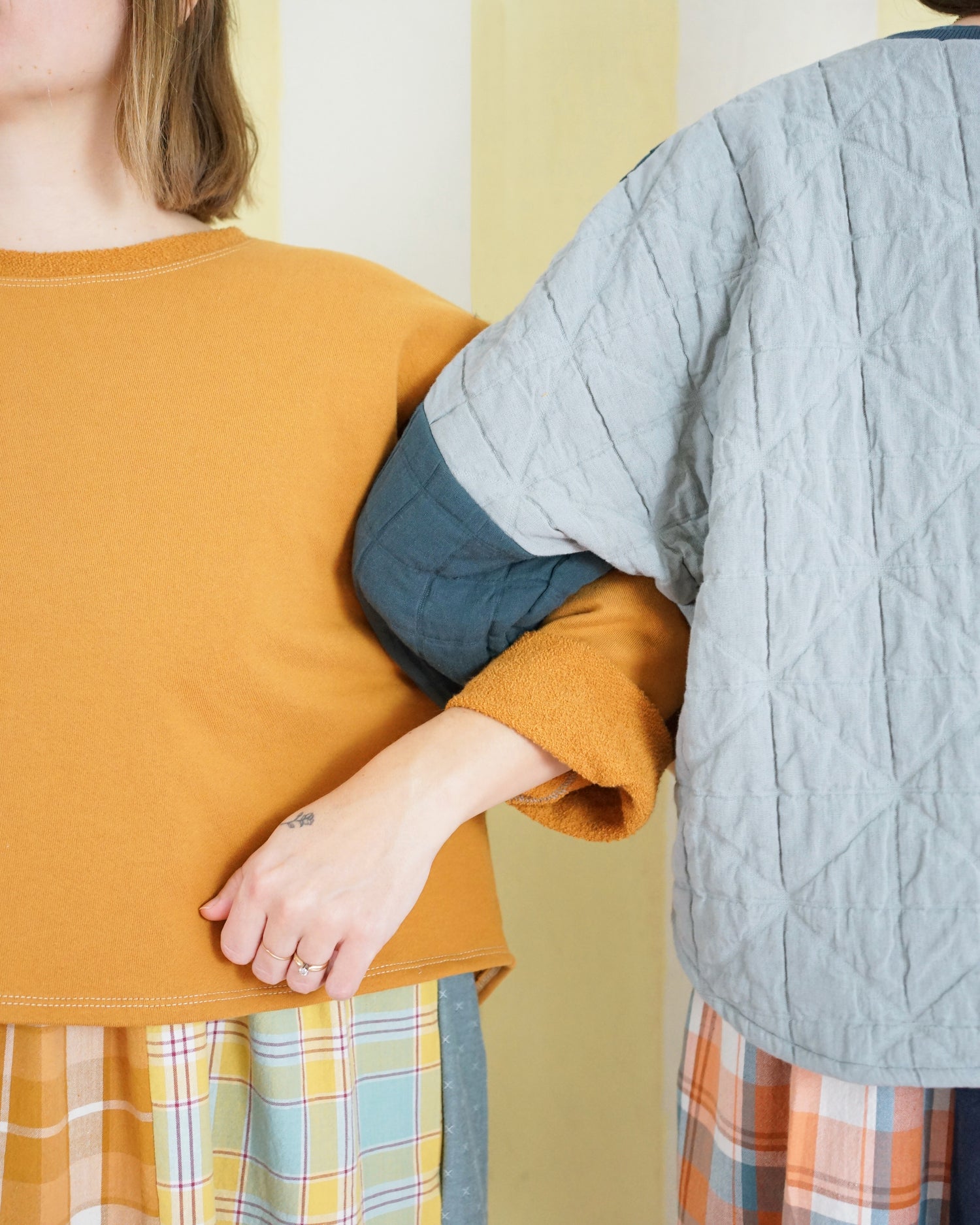 Join the club!
Want to join the Matchy Matchy Sewing Club? Great, you're in! 
Our cozy internet corner is for sewists and by sewists: a place to learn together, encourage each other, and share helpful tips and ideas. Everyone is welcome and anything goes!
Read the Blog
Mix and Match Linen
A piece of cake to piece together a make. Fabric for everyone who loves to sew and anyone who wants to.
Hello!
We're Amy and Theresa, and we're so happy you're here. As self-taught sewists with a passion for simple and smart design, we believe that creativity doesn't have to be complicated, mistakes can be magical, and good today is better than perfect tomorrow. 
Amy + Theresa
Let customers speak for us
Simple and Satisfying
I'm a major beginner and my first one came together quickly and easily. I've made several more versions since and loved them all!
J'ai pris ce patron pour me faire une combinaison pour la maison...bien taillé ! Merci!
Help!
I love this pattern and thank you for putting it on sale. However, I wish the Horizon came as a paper pattern. The PDF is a total hassle and the amount of money saved is't worth the grief!
Love the idea of mix and matching fabrics
Looking forward to making this up. Love the idea of colour blocking for this style . I think I will be mix and matching linens from my stash!
PDF pattern
I would gladly have pd for a full size pattern by the time I tape together all the pieces. Or even just inches, since most are just rectangles.
Please consider!!!
Fantastic
Pattern and instructions are so well laid out and easy to follow. I will be making it again but in a smaller size. I did make the neckline smaller and added to the length. Definitely worth buying, will be lovely as the dress too.
Looks great
I haven't used the pattern yet but it looks great and fairly easy to make.
Such a fun design
I love the design of this pattern and am looking forward to making it up for my granddaughter
An ideal pattern for all seasons
I love this play suit! I am short and curvy and this pattern fits me beautifully! I find that looser fits tend to drown me, but not the Cabana play suit. Matchy Matchy continues to impress
. PDF patterns are not for me!
I was happy to find the Collage Dress pattern, since I've been looking for a way to use a beautiful batik remnant. I like the style, it looks pretty straightforward to make, but oh man, what a PITA putting together the pattern is. TOTALLY not worth the $$, especially considering the extra time, effort,, & cost required ti have a functional pattern.
No more PDF patterns for me - learned my lesson 😒
Favorite shorts pattern so far!
I've been on a real sewing kick lately, and this is the third shorts pattern that I've tried in the past month. This is by far my favorite! There's just the right amount of ease through the hips, and I found the sizing to be very true to the chart. The pattern was easy to follow, and construction was simple. I thought the pockets might stick out, but they don't! They're perfect and very useful. The extra panels and multiple pockets make the styling options endless; I will definitely be making multiple pairs of these!
Perfect Patchwork
Haven't used the pattern yet, but I have previously made the Matchy Matchy Top, which I love, it is so easy to make and I have had loads of comments when wearing it.So thought I would order this pattern. I love the patchwork concept and I'm really excited to make the dress.
Cute and Comfy!
I really enjoyed sewing these shorts! Such a clever construction and the instructions were clear and precise. The results are really comfy as I expected them to be but also really flattering which was unexpected! They make a cute culotte type of silhouette and I've been froliking around in them all summer!
Lovely Pattern!
Yet another clever, joyful pattern from Matchy Matchy! An absolute pleasure to sew from beginning to end. The instructions are clear and helpful, and the garment construction is simple and effective. I have made view C and view A, and am thrilled with both. Will 100% sew this again and again. Thank you for continuing to make patterns that fuel my creativity and help me to use my precious scraps!